Glitter&Gumbo.com along with other journalists had the pleasure of interviewing Vanessa Morrison, the Fox Animation Studios President, about her successful animation career and the niche of the Ice Age series. Vanessa Morrison's role as President allows her to oversee the development, production and marketing of family-friendly movies. A list of films you may not realize are included under her leadership are "Ice Age: Dawn of the Dinosaurs", "Dr. Seuss' Horton Hears a Who!", "Rio" and "Peanuts" just to name a few.
If you have a dream in your heart and sometimes find it difficult to believe in the level of your greatness, Vanessa Morrison is a great example of a woman who didn't give up and defied the odds of landing a role in leadership. She is truly an inspiration. Enjoy learning more about her journey below.
How did your earliest memories with animation and cartoons inform you in your position now as the lead of this franchise with Ice Age?
I have always loved animation and I've always loved family movies. I think probably my first animated movie was probably Sleeping Beauty. Throughout the years, I started actually in my career working in live action and always gravitated towards family movies. When I started out working I worked on movies like "Dr. Dolittle" and "Cheaper by the Dozen" and "Garfield." So my passion from childhood always kind of carried into my professional life working in the movies. Then the passion for live action translated into an interest in animation career wise. So I think from the beginning I've always had an interest in animation that I never… and family movies that I never lost.
So you introduced the latest character Shangri Llama, and can you tell us about why he was introduced into serene nature and to this installment?
We wanted to in this installment to take you, we wanted to stay in the Ice Age but take you kind of to a different environment than you've ever been in before and a different world than you've ever been in before. The filmmakers conceived of this notion that when Scrat kind of puts their Ice Age world in jeopardy that they really wanted to deliver the audience to a whole different place that looked different, that sounded different, that had characters that looked unlike any ice age characters that we'd ever seen before. Thus they created this magnificent world of Geotopia. We wanted a character that kind of really embodied that, that was their leader.
Thus was created this character of the Shangri Llama who I think is this kind of very fantastic and fantastical character that Jesse Tailor focused in and really brought his own kind of special spirit to… that is a character through his performance and through the design and through this environment feels like a character unlike any other that we've ever seen in the Ice Age. That was the intent and he; we think one of the kind of, most special kind of, funny additions to this new franchise.
What would you tell a nine-year-old in terms of what they need to do to get to what you have achieved today?
I love meeting kids that are interested in animation and filmmaking because I was that nine-year-old kid as well. I always loved movies and also always loved storytelling. I'm always quick to point out that movies are a good extension of storytelling and really literature also. So for me I didn't know anyone in the film industry, I didn't know any animator filmmaker, screenwriter, anything. So one thing that my parents I think, and they were both teachers really focused on was just the importance of just a, I followed education obviously. And b, the importance of being able to kind of know how to write and know how to read and know how to translate what you read and to, your own analysis of things.
For me I think the whole notion of storytelling really began, especially since I didn't have anything to do with the film industry, I didn't know anybody, didn't live in Los Angeles… the notion of learning how to write well and a passion for stories in general and a passion for literature in general. Then kids now are so lucky that they can get that kind of foundation but then they can broaden themselves through…. Kids can make their own animation on the own kind of personal computers now and have experiences that I never would have imagined being able to have because for me I really just kind of was an English major basically. Actually I went to, I was specifically a Rhetoric major which is kind of a crazy major. But it was basically English.
But that's what allowed me to kind of learn how to read stories and tell stories so then when I could go to film school I had some sort of foundation in that. So for me it started very early too and I really encourage kids to take those interests very seriously. People tend to kind of dismiss kids' interests sometimes as being the interest of kids. But I think those are the seeds of what you can become.
When the movie first came out 14 years ago, was the vision always there to turn Ice Age into the brand that it has now become?
I think, I was not here at the very beginning but I have been fortunate enough to work with Lori Forte, the producer who was here at the very beginning and filmmakers like Chris Wedge, Carlos Saldanha and Mike Thurmeier and Galen T. Chu who directed this movie, who were also there at the very beginning. I think, I don't necessarily know that they had any idea that it would become kind of the global franchise that it's become. But they know and what they did strive for is a really kind of timeless set of characters that you would want to follow through many different adventures.
What they did kind of try to present to an audience that we've tried to be very true to is this notion of the Ice Age herd as being this family kind of growth, a family that has a sense diversity to it, that is a collection of people that aren't of the same but they love one another and fight for one another. I think that kind of, that really powerful idea of the herd and growing the herd and the herd going to new worlds and new adventures is the hallmark of the franchise that has really allowed it to reach new audiences, grow the audiences that love it and allowed us to kind of continue to make new and interesting movies.
Is it safe to say that if it wasn't for Scrat, then the evolution of earth as we know it would have gone in a completely different direction since he is like the Forest Gump of  our generation?
I love the idea that he's the Forest Gump of our generation. I've never thought of it that way but we love Scrat. Scrat is of course one of our favorite characters, really kind of our mascot for Blue Sky Studios. What we love about him is his ability to, this simple idea that in pursuing his nut that he has made all these profound kind of changes to the universe. In our mythology Scrat's misadventures, we love to start out with those and Scrat's misadventures are always kind of what triggers the, the catalyst for our stories. In this story yes. Scrat has a profound impact on the universe through, just trying to get that acorn.
You've been in your current position for quite a while.  What is your most, I guess the best part of your job that you get to do, but what is the most difficult as well? 
For me it's kind of a dream come true as I was saying before, like to be able to come to work every day and work with these amazing artists and storytellers. It's really a dream come true and for me the best part of it all, so in addition to just the daily work and working with talented people is the fact that we're making movies for families. Families can come see our movies, from a very young age to my mother is 77 and loves Scrat. That we can really hit that kind of a full spectrum of a family is one of the joys of this job and one of the things that has always kind of made me gravitate towards movies.
The other thing that I always love about this job and love about our movies is the ability to kind of use interesting voices in our movies… people who've never done it before like Michael Strahan for example did a voice and is kind of granny Wanda Sykes boyfriend in this movie which is hilarious. And Adam DeVine or Jesse Tyler Ferguson or Neil deGrasse Tyson who I've always admired getting to kind of create a character with his voice and mind. That is also one of the kind of exciting parts of this job. Everybody has a bad day here and there but I really feel kind of blessed and fortunate to be able to bring these movies to life and bring them to a global audience. I can't say there's a whole lot of bad days. I get to work to Scrat, like how bad can your day be.
I'd like to know if you can share one idea that seemed absolutely crazy during the production of this film but in the end actually worked out?
The notion of finding a whole new world of animals living not just in the Ice Age but living in this beautiful wonderful meteor was something that we'd never seen before. That's something that at first could seem like kind of crazy but in the way in which it's constructed and they're on this adventure to try to find a way to save their home and find sanctuary it really fit in nicely with the narrative. So trying anything new at first can seem kind of crazy but the hallmark of the franchise is that we really try to evolve it and it's those things that at first seem crazy are what we value the most about the movies as they continue.
Your love for this business, your love for animation, you being one of the few African-American women in a high executive position, what are some of the steps you take in order to make it more feasible for more people of color to be within the animation world behind the scenes?
I think, I'll often be asked about diversity and often the need for more diverse executives in particular and the need for more diversity in our world in general. To me the most important thing is just encouraging that new generation and encouraging people who have interest in it. Someone mentioned their nine-year-old son. It starts even that early to really encourage people to get involved in this industry and to take it seriously and to take their kids interest in it seriously and to never think that it is somehow kind of an elitist kind of place. That the movie industry is a global industry and it has to touch and represent all of us. In order for the movie industry to touch and represent all of us it requires the interest and participation and encouragement from all of us. I try to represent that as I go about my day and make sure the diversity is represented in front of and behind the camera. I try to urge people whether they're grown adults that are executives or kids or writers or whoever to pursue their interest in film and television and new media and technology because animation is also involved technology, to the fullest extent that they can and to never be discouraged or take their eye off the prize, to just keep going relentlessly.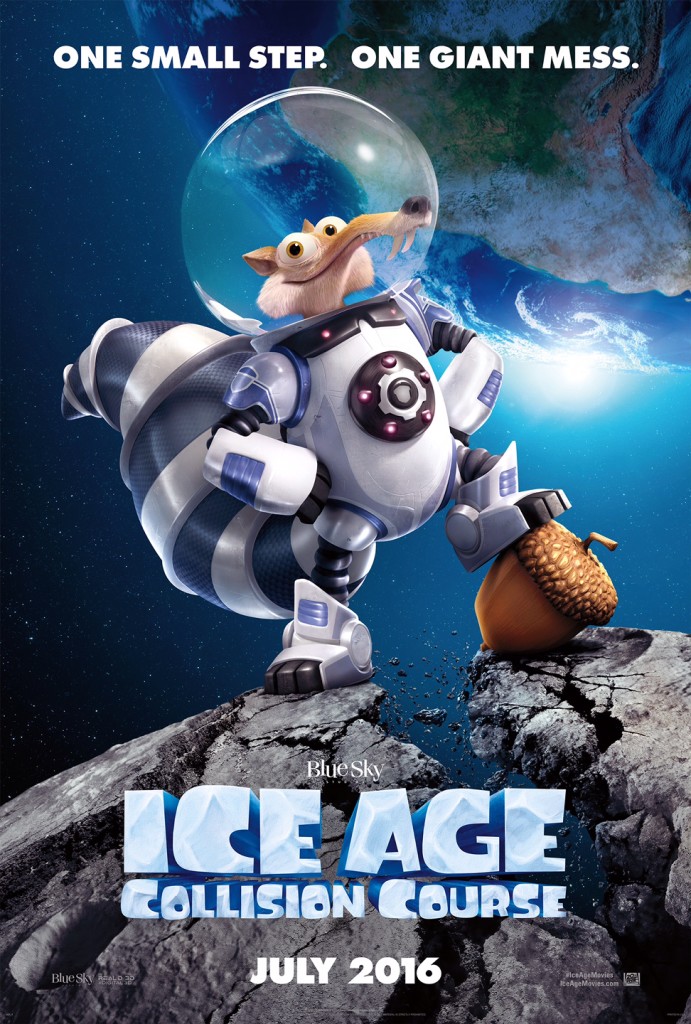 Synopsis:
Scrat's epic pursuit of the elusive acorn catapults him into the universe where he accidentally sets off a series of cosmic events that transform and threaten the Ice Age World. To save themselves, Sid, Manny, Diego, and the rest of the herd must leave their home and embark on a quest full of comedy and adventure, traveling to exotic new lands and encountering a host of colorful new characters.
ICE AGE: COLLISION COURSE, opening in theaters everywhere July 22, 2016, stars returning cast members Ray Romano, Denis Leary, John Leguizamo, Queen Latifah, Seann William Scott, Josh Peck, Simon Pegg, Keke Palmer, Wanda Sykes, and Jennifer Lopez.  Joining the herd are Stephanie Beatriz, Adam DeVine, Jesse Tyler Ferguson, Max Greenfield, Jessie J, Nick Offerman, Melissa Rauch, Michael Strahan and Neil deGrasse Tyson.
SITE: IceAgeMovies.com
FACEBOOK:https://www.facebook.com/iceage
SCRAT'S FACEBOOK:https://www.facebook.com/ScratofIceAge
TWITTER: https://twitter.com/iceage
YOUTUBE: https://www.youtube.com/channel/UCNDaFXLGF7W6ADJ7eUwIhgg
VINE: www.vine.co/iceagemovies
SNAPCHAT: IceAgeMovies