Get your "Marshall" Advance Screening Movie Passes for Houston, Texas here and enjoy.
A new film is on the horizon and there's no greater time than now for us to embrace our history, and learn a true story that is pertinent for the struggle of justice we now face in the 21st Century.
Actor Chadwick Boseman is leading the charge in film as he portrays a pivotal moment in the life of the first African-American Supreme Court Justice, Thurgood Marshall, in a movie accompanied by the same name of "Marshall."
GlitterandGumbo.com is honored to offer our esteemed readers free passes to an Advance Screening of "Marshall" in Houston, Texas on October 10, 2017 at 7:30 PM. Seating is first come first served and early arrival is suggested.
The official release date in theaters is scheduled for October 13, 2017. View the trailer for a sneak peek.
SYNOPSIS: Long before he sat on the United States Supreme Court or claimed victory in Brown v. Board of Education, Thurgood Marshall (Chadwick Boseman) was a young rabble-rousing attorney for the NAACP. The new motion picture, MARSHALL, is the true story of his greatest challenge in those early days – a fight he fought alongside attorney Sam Friedman (Josh Gad), a young lawyer with no experience in criminal law: the case of black chauffeur Joseph Spell (Sterling K. Brown), accused by his white employer, Eleanor Strubing (Kate Hudson), of sexual assault and attempted murder.
CAST: Chadwick Boseman, Josh Gad, Kate Hudson, Dan Stevens, Sterling K. Brown, and James Cromwell
DIRECTOR: Reginald Hudlin
WRITERS: Jake Koskoff and Michael Koskoff
EXECUTIVE PRODUCERS: Peter Luo and Belton Lee
PRODUCERS: Paula Wagner, Jonathan Sanger, and Reginald Hudlin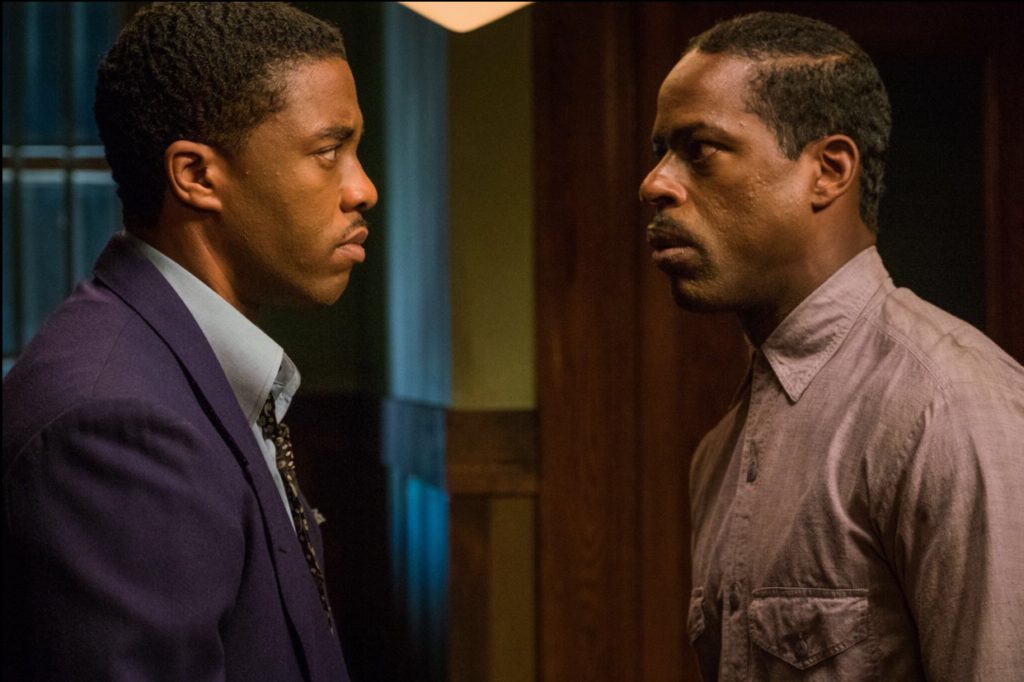 #MarshallMovie
Facebook: Facebook.com/MarshallMovie
Twitter: Twitter.com/MarshallMovie
Instagram:  Instagram.com/MarshallMovie
Film Site: www.MarshallMovie.com