How can you tell if the audience really enjoyed a movie? One sure sign that unanimously speaks to my heart is the sound of clapping and cheers that occur at the end of a film. On Saturday, December 9, 2017 the Houston, Texas audience for the Ferdinand screening, made it perfectly clear with their response that this movie is awesome!
Ferdinand, available in theaters December 15th, was recently nominated for a Golden Globe in the category of Best Motion Picture – Animated and Best Original Song – Motion Picture and I couldn't agree more.
Based off of the 1936 book classic, The Story of Ferdinand by author Munro Leaf and illustrator Robert Lawson, I was looking forward to watching how this storyline would evolve for a film adaptation. I made sure my +1 guest reacquainted himself with the book before the movie screening.
We all know children are sincerely and brutally honest, therefore I immediately turned to my son to hear his thoughts. He replied, "This movie is funny!" My mini movie critic thoroughly enjoyed it and surprisingly, his attention span throughout the film was magnificent. Even the children sitting behind us were really into the film and talking back to the screen. The theater was full of chuckles and screams from young eager fans.
Ferdinand is an entertaining film that the whole family will enjoy. From the moment the movie began I found myself mesmerized by the beautiful 3D cinematography work of Blue Sky Studios. One unique aspect that is not in the story book is the introduction of Nina, a little girl that loves Ferdinand just the way he is and honors his way of life.
Actor John Cena, the voice of Ferdinand, and Kate McKinnon, the voice of sidekick Lupe, are a hilarious dynamic duo. The film really takes off to an adventurous comedy showcase when these two characters meet for the first time.
The theme, "Weird is the new normal" is so befitting for a film that celebrates the original message of it's okay to be a bull that desires to smell flowers instead of fighting against a matador. Embracing who you are as an individual, while reaching for a dream that is out of your comfort zone takes courage. Children and even adults across the country will receive a great lesson on what it means to fight with your heart and not your hands.
Once again, I prefer not to give away too many intricate parts of the film, so you can enjoy the full spectrum of some epic surprises. The dance battle alone will have you rolling with laughter. It is beyond hysterical to say the least.
Run to theaters on Friday, December 15th to see Ferdinand and you will not be disappointed. Loved it.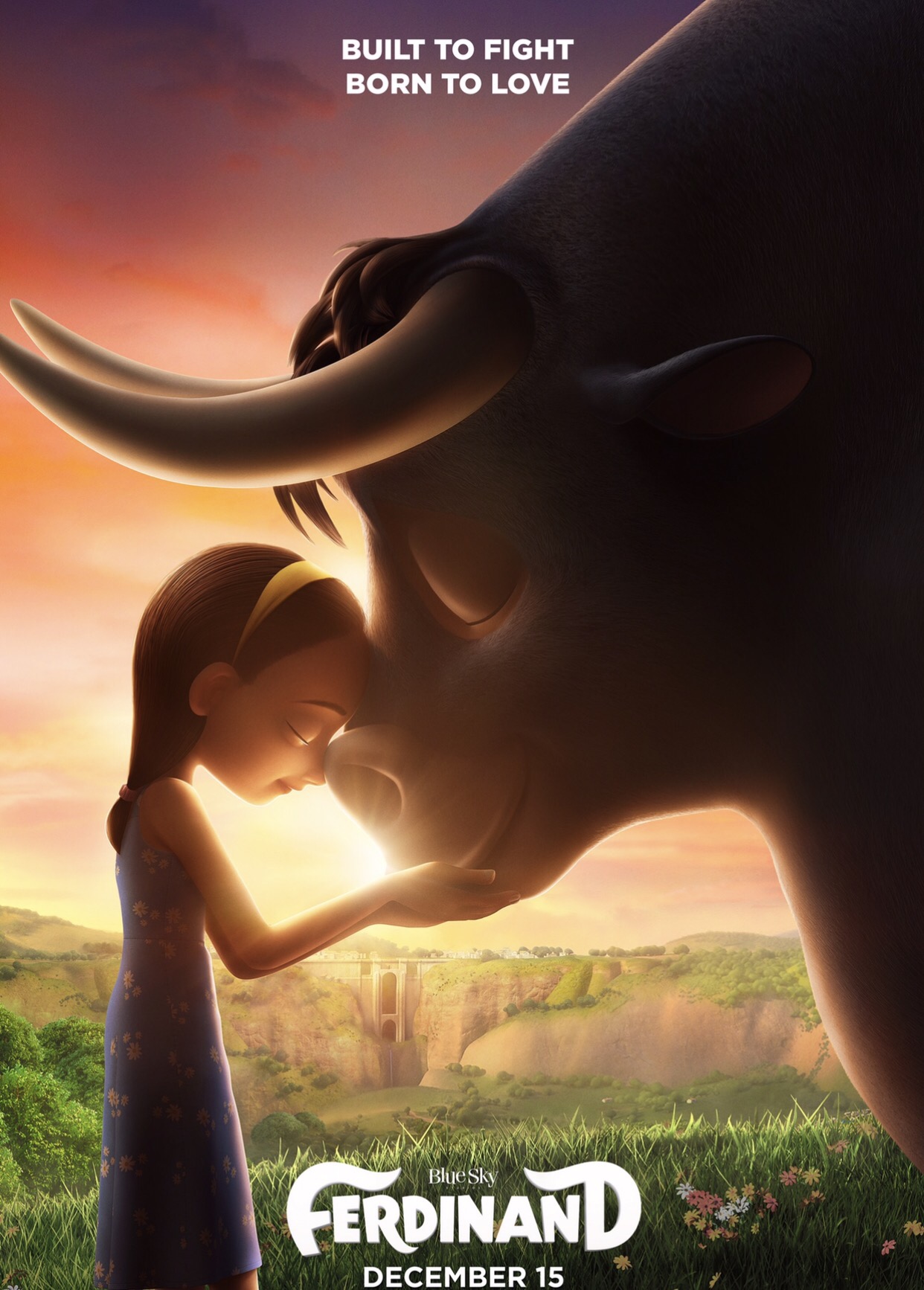 FERDINAND
Animation, in 3D
Release: December 15, 2017
Directed by: Carlos Saldanha
Cast: John Cena, Kate McKinnon, Gina Rodriguez, Daveed Diggs, Gabriel Iglesias, Bobby Cannavale, David Tennant, Anthony Anderson, Flula Borg, Sally Phillips, Boris Kodjoe, Jerrod Carmichael, Raúl Esparza, Karla Martínez, Miguel Ángel Silvestre.
SYNOPSIS
FERDINAND tells the story of a giant bull with a big heart. After being mistaken for a dangerous beast, he is captured and torn from his home. Determined to return to his family, he rallies a misfit team on the ultimate adventure. Set in Spain, Ferdinand proves you can't judge a bull by its cover.
From Blue Sky Studios and Carlos Saldanha, the director of "Rio" and inspired by the beloved book "The Story of Ferdinand" by Munro Leaf and Robert Lawson, "Ferdinand" is a heartwarming animated comedy adventure with an all-star cast that includes John Cena, Kate McKinnon, Gina Rodriguez, Anthony Anderson and many more.
FERDINAND Official Channels
SITE: FerdinandMovie.com
FACEBOOK: www.Facebook.com/FerdinandMovie
TWITTER: www.Twitter.com/FerdinandMovie
INSTAGRAM: www.Instagram.com/FerdinandMovie
Hashtag: #Ferdinand